VIGO Sutherland Rain Waterfall Shower Panel with Jets and Hand Shower Diverter/Thermostatic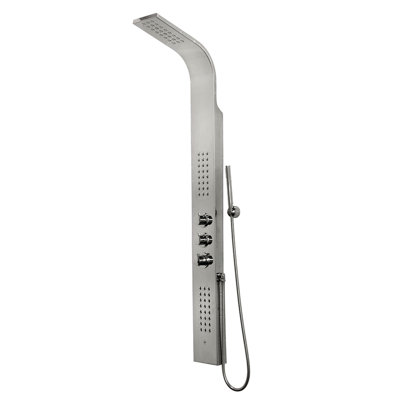 Two oversized, fixed jet, horizontal spray massage zones, a rain shower head, and single function hand shower with 60" chrome plated brass hose//This unique massage panel is designed for flat wall or corner installation to provide better space utilizat...
Buy Now
$314.99
Related Products
Raincatcher 75mm Cast Iron Rainwater Diverter Kit - Diverts water to all sizes of water butt - Easy to install and maintain - Fits all pipework - Easy rainwater harvesting for the beginner or seasoned harvester - Also available in 75mm
View Item
Flex-drain 50110 flexible/expandable landscaping drain pipe, solid, 25-foot a solid pipe, appropriate in applications that involve moving water from one point to another (i.e. Away from downspouts). Does not allow water to seep in or out anywhere except pipe ends. Works effortlessly with our complete system of connectors, couplers and adaptors. Exceeds all applicable astm standards. Made with no-break copolymers for professional grade strength and integrity. Proprietary peak and valley design offers greater surface area and a 30-percent higher load-bearing rating than standard corrugated pipe. Guaranteed not to split, crack or break when used in accordance with local building codes. Flex-drain is compatible with virtually all traditional 3-inch and 4-inch corrugated pipe and 4-inch pvc. All flex-drain products are made in america.
View Item