VIGO Sutherland Rain Waterfall Shower Panel with Jets and Hand Shower Diverter/Thermostatic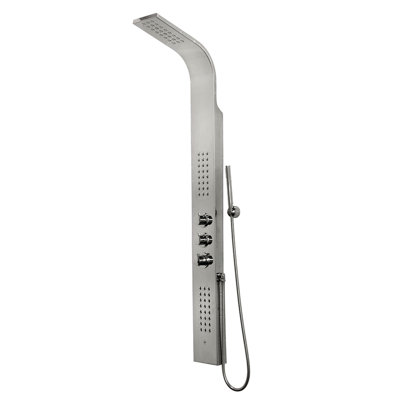 Two oversized, fixed jet, horizontal spray massage zones, a rain shower head, and single function hand shower with 60" chrome plated brass hose//This unique massage panel is designed for flat wall or corner installation to provide better space utilizat...
Buy Now
$382.64
Related Products
The Save the Rain Diverter captures water from your downspout and channels it into your barrel. The ideal condition for the diverter is when the barrel is placed in front of the downspout. During the water collection season the diverter stays open and diverts water into the barrel. When you put your barrel away for the winter you simply close the flap on the diverter and your downspout resumes its original function without having to reassemble it. Diverter opening: 2 x 3 in..
View Item
Telescoping extender, attaches to extend-a-spout drainage system #81015, lengthens the extend-a-spout an additional 9 to 28", easy installation with snap-fit connections, multiple extenders can be attached.
View Item