171 Piece Base Camp First Aid Kit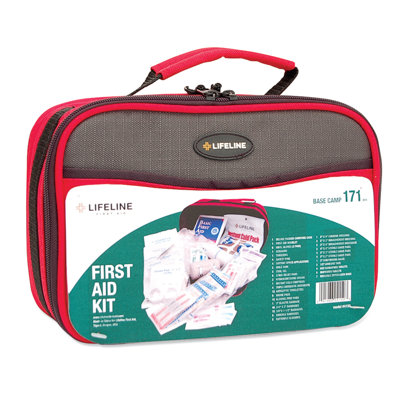 171 Pieces of first aid supplies are included in first aid kit//Base camp first aid kit//Extensively stocked first aid kit that stores easily and has supplies to treat a wide variety of injuries//One single sided bag contains first aid booklet, stainle...
Buy Now
$58.99
Related Products
The Coleman Expedition First Aid Kit is the ultimate all purpose first aid kit for larger groups or outdoor adventures. This 205 piece kit features components needed in the field, including various standard and specialty bandages, first aid tape, gauze pads, antiseptic towels, antibiotic ointment, sting relief wipes, a cold pack and common first aid tools. All the first aid supplies are organized in a zipped, durable, semi-hard case. The unique EZ Find System keeps your items organized and easy to find during an emergency. There is space in the kit for your specialized medical supplies or medications so you can fully customize this first aid kit to fit your needs. The Coleman Expedition First Aid Kit is the perfect first aid kit for your home, RV, car, bug out bag, or for groups when camping, hiking, at sporting events, workplace, and more.
View Item
Cordura nylon bag. Plastic bag. Non-adherent dressings. Sterile gauze pads. Conforming gauze. Elastic fabric. Adhesive bandages. Closure strips. Instant ice pack. Latex gloves. Antibiotic ointment. Cleaners. Towelettes. Adhesive tape. Assessment form, pencil and instructions for product use. A complete kit designed for the treatment of common sport injuries. Ideal for recreational team sports, youth leagues, coaches and officials.
View Item