171 Piece Base Camp First Aid Kit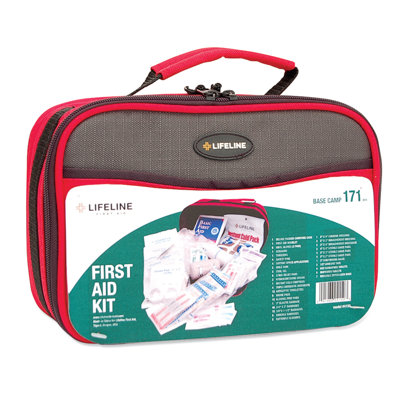 171 Pieces of first aid supplies are included in first aid kit//Base camp first aid kit//Extensively stocked first aid kit that stores easily and has supplies to treat a wide variety of injuries//One single sided bag contains first aid booklet, stainle...
Buy Now
$59.99
Related Products
Kit contains: Adhesive bandages (25/bx.), 3 large fingertip fabric bandages, 2 knuckle fabric bandages, 1 triangular sling/bandage w/ 2 pins, 1 trauma pad, 6 gauze dressing pads (3 2 pks), 1 conforming gauze roll bandage, 1 sterile eye pad, 12 antisep...
View Item
Cordura nylon bag. Plastic bag. Non-adherent dressings. Sterile gauze pads. Conforming gauze. Elastic fabric bandages. Closure strips. Latex gloves. Antibiotic ointment. Cleaners. Towelettes. Adhesive tape. Assessment form and instructions for product use. Lightweight and fully stocked kit containing basic supplies for treating minor sports-related injuries. Ideal for athletes, parents and teams.
View Item