Physicianscare Soft-Sided First Aid And Emergency Kit, Contains 105 Pieces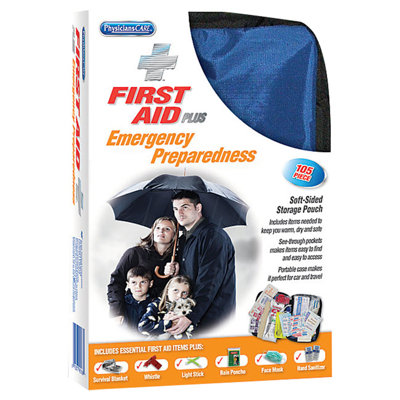 System capacity 10 Person system//Number of pieces 105//Contains Adhesive bandages, gauze pads, antiseptic wipes, antibiotic ointment, sting relief pads, tape, gloves, light stick, survival blanket, whistle, face mask, hand sanitizer, rain poncho//Made...
Buy Now
$43.99
Related Products
Looking for a complete solution to your First Aid needs? Then Look No Further! The Thrive Brand 100 Piece First Aid Kit is the ideal for emergency kit for nearly any occasion. What Makes the THRIVE First Aid Kit Different? ✓ DESIGN - Crafted from durable rip-stop nylon and vinyl fabric. Lightweight, compact and yet still holds everything you need for life's unexpected events. ✓ VALUE - We are confident that you will find that there are more and higher quality contents in our kits than any other on the market! ✓ QUALITY - Manufactured in a modern sterile FDA registered facility and sold by a FDA registered company that has been doing business for 40 years. ✓ SATISFACTION GUARANTEE - If for any reason you're not 100% satisfied with our product, simply contact us for a hassle-free full refund. We truly believe in and stand behind our products! ✓ CONTENTS - Packed with 100 useful and valuable hospital grade medical supplies: Scissors (1) Triangular Bandage (1) Burn Dressing (1) PBD Conforming Bandage (1) Abdominal Pad (1) Alcohol Pad (8) Anti-mosquito Towelette (4) Cleaning Wipes (2) Gauze Pad (2) Non-woven Pad (2) Cooling patch (2) Adhesive Bandage (large) (20) Adhesive Bandage (small) (15) Adhesive Bandage (round) (5) Elastic Butterfly Bandage (2) Cotton Buds (20) Safety Pins (10) Metal Tweezer (1) Emergency Whistle (1) Non-woven Tape Roll (1) 100 TOTAL PIECES View the full line of Thrive Brand First Aid Kits on Amazon. Thrive offers first aid kits for nearly all occasions.
View Item
Emergency camper's tool//Great for camping, hunting or household use//Product Type First Aid Kit//Hardware Finish Brown//Primary Material Stainless steel//Outdoor Use//Country of Manufacture China
View Item