Physicianscare Soft-Sided First Aid And Emergency Kit, Contains 105 Pieces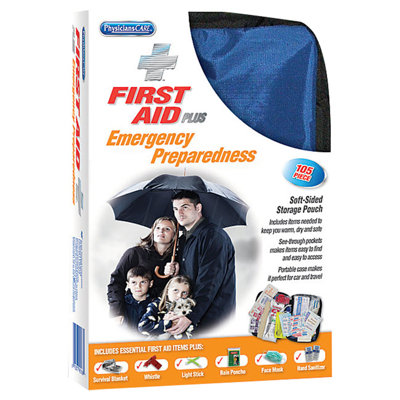 System capacity 10 Person system//Number of pieces 105//Contains Adhesive bandages, gauze pads, antiseptic wipes, antibiotic ointment, sting relief pads, tape, gloves, light stick, survival blanket, whistle, face mask, hand sanitizer, rain poncho//Made...
Buy Now
$41.99
Related Products
0% 1 Each 419 75 People 90111 First aid kit is designed for use by up to 75 people, exceeds OSHA requirements and is compliant ANSI Z308.1. Organized, compact container makes finding items quick and convenient. Use this wide variety of first aid items to treat most incidents and accidents. Kit includes antiseptic towelettes, alcohol pads, cold pack, eye pad, medical-grade latex gloves, absorbent pad, antibiotic and burn ointments, assorted adhesive bandages and gauze pads, finger splints, tape, triangular bandage, scissors, tweezers and first aid guide. Antiseptic Towelettes Alcohol Pads Cold Pack Eye Pad Medical-grade Latex Gloves Absorbent Pad Antibiotic and Burn Ointments Assorted Adhesive Bandages Gauze Pads Finger Splints Tape Triangular Bandage Scissors Tweezers First Aid Guide OSHA ANSI Z308.1 Acme United Corporation China First Aid Kit No PhysiciansCare White http://www.acmeunited.com
View Item
Features: -88 Pieces of first aid equipment are included in the first aid kit.-Mountain first aid kit.-Well stocked first aid kit that stows easily in your backpack to provide peace of mind on the trail.-One soft sided bag includes first aid guide, sci...
View Item