Physicianscare Soft-Sided First Aid Kit For Up To 10 People, Contains 95 Pieces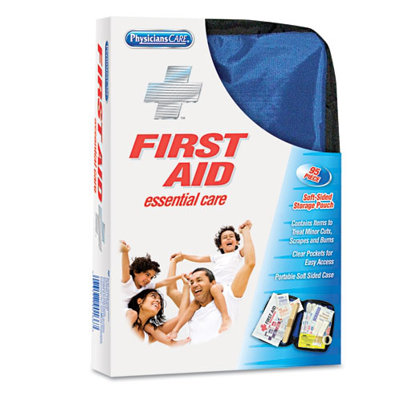 Whether at work or play, inside or in the great outdoors, be prepared with quality convenient, efficient care on-the-go. Contains essential first aid items needed to treat most incidents and accidents in and out of your office. Durable, portable soft ...
Buy Now
$23.99
Related Products
Light weight portable travel pet first aid kit. Great for traveling, hiking, walking or for at home for dogs, cats and other small animals. Bag includes a zip pocket with carabiner attachment. Features: -Bag includes a zip pocket with carabineer attac...
View Item
Includes one 5 x 9 bandage, pocket tissue, ibuprofen, cold relief, 2-pack Aspirin, 2-pack antacid, non aspirin, CPR mouthpiece, 4 x 4 burn free, blistex, 63 page first aid guide, eye patch, 5.5 scissors, tweezer, hydrogen peroxide, chapstics, triangular bandage, bug X, poison oak, SPF sunscreen 2 oz. hand sanitizer, toothpaste, comb, hand lotion, doctor penlight, two non adherent pad, blue masks, 3 in. gauze, 0.5 yard tape, sting relief, wet naps, pair nitrile gloves, three 2 x 2, 3 x 3, 4 x 4 bandages, antibiotic ointment, small burn free, patch bandage, six alcohol wipes, antiseptic wipes, paws antimicrobial wipes, butterfly bandages, twelve 1 x 3 bandaids, 0.75 x 3 bandaids, hundred Q-tips. 12 in. L x 5 in. W x 5 in. H (4 lbs.). Not your ordinary first aid kit. This 105 piece kit combines essential first aid supplies with personal hygiene and outdoor protection products. And best of all it comes in a user friendly roll out sleeve with all the products are at your fingertips.
View Item