'Solar Energy' by Cindy Thornton Painting Print on Wrapped Canvas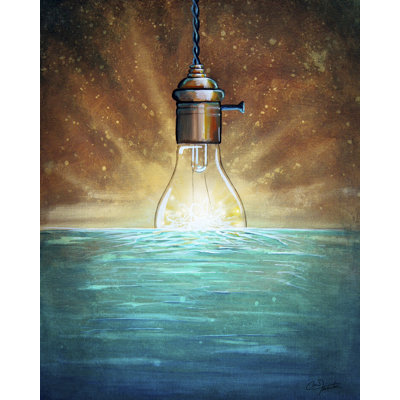 Artist Cindy Thornton//Premium eco solvent inks with UV protection//Arrives ready to hang with all hardware included//Fine art giclee canvas print professionally hand stretched; wrapped over sustainable FSC certified pine wood//Made in the USA//Product...
Buy Now
$354.14
Related Products
The great energy transition from fossil fuels to renewable sources of energy is under way. As oil insecurity deepens, the extraction risks of fossil fuels rise, and concerns about climate instability cast a shadow over the future of coal, a new world energy economy is emerging. The old economy, fueled by oil, natural gas, and coal is being replaced with one powered by wind, solar, and geothermal energy. The Great Transition details the accelerating pace of this global energy revolution. As many countries become less enamored with coal and nuclear power, they are embracing an array of clean, renewable energies. Whereas solar energy projects were once small-scale, largely designed for residential use, energy investors are now building utility-scale solar projects. Strides are being made: some of the huge wind farm complexes under construction in China will each produce as much electricity as several nuclear power plants, and an electrified transport system supplemented by the use of bicycles could reshape the way we think about mobility.
View Item
3 Modes (Change by pressing the On/off Switch) 1) Dim Light Mode : The light is dim at night when there is no motion detected. But when there is motion detected, the light auto as strong light for about 12s and dim again after 12s. 2) Strong Light without Dim Light Mode : When there is motion deteced, the light auto on for 12s, but the light will be totally off if there is no motion detected or after 12s. 3) Always on Mode : The light will keep on for 5 hours at night and charged by sunlight at daytime. Kindly Note : 1. Please turn the light on by pressing the ON/OFF switch for 3-5s and set the mode before installation. 2. Every time you press the switch to change the mode, the light will be flashing twice until shuting down. Easy Installation Fast and easy installed even by a lady with the included screws, no wire, no need electrician. Please note : 1) Please charge the device fully before the first using 2) The 18650 battery is replaceable if there is problem with the solar light Feature ◆ Solar Panel : 5.5V/2.5W 18% conversion rate ◆ Output Power : 3.2V/4W ◆ Lithium Battery : 3.7V/4400mAh ◆ Light Source : 38 LED (0.2W/28Lumens) ◆ Suitable Installation Height : 2~4 Meters ◆ Luminous Flux : 500 Lumens ◆ Induction Angle : 120 degrees ◆ Induction Distance : 5~10 meters ◆ Lighting Area : 15㎡~30㎡ ◆ Light Color : White ◆ Material : ABS + PC ◆ Color : Black ◆ Weight :0.4 KG ◆ Size : 210 * 115 * 85 MM Package Content 1 * LONRIC 38 LED Solar Powered Light Waterproof Motion Sensor Wall Light 2 * Expansion Pillar-hige 2 * Screws 1 * User Manual
View Item