Emergency 2 Person Outdoor Survival Kit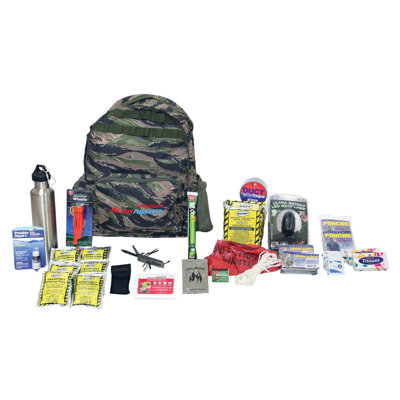 Food bar and water pouches//Light sticks//5 In 1 survival whistle//First aid kit 33 piece//Poncho//Survival blanket//Pocket tissues//LED crank headlamp//Duct tape//Pocket knife multi function//Bio hazard bags//Pre moistened towelettes//Carabineer clip/...
Buy Now
$173.99
Related Products
This compact first aid kit comes packaged in a sturdy hard shell foam case for easy storage and portability. This kit is perfect for car, home, work and definitely camping and outdoors. Our kit contains basic first aid supplies. Each kit contains 124 pieces of first aid and a very durable carrying case. Contents include:Hard Shell carry case1 carabiner1 first aid guide10 cotton tip applicators1 triangular bandage1 5" x 9" combine dressing10 3/8 x 1 1/2 bandages2 elbow and knee bandages1 4"x4" sterile gauze pad2 3"x3" sterile gauze pads4 2"x2" sterile gauze pads10 7/8" spot bandages4 antibiotic ointments4 small wooden splints1 CPR breathing barrier2 adhesive tapes5 safety pins1 cold pack1 2"x6' gauze roll12 BZK wipes1 tweezer1 small scissors20 1"x3" bandages10 butterfly bandages1 knuckle bandageBest first aid kit for all uses.
View Item
Item model number : KEX4P, Honey Bucket with Lid. 4 - 2400 Calorie Food Bars , 4 - Solar Blankets, 24 - Pouches of Waters, 4 - Dust Masks, 4 - Ponchos, 12 Pack of Liners, 6 - Wet Naps , 12 Hour Light Stick, T-5 Chemical Toilet Disinfectant, Roll 10 yards,Duct Tape, Gas and Water Shut Off Tool, 15" Pry Bar, 54 Piece First Aid Kit , Dynamo flashlight/Radio, Pair Leather Palm Gloves, Utility Knife, 5 N 1 Whistle, Water Purification Tablets, Waterproof Matches.
View Item