Emergency 2 Person Outdoor Survival Kit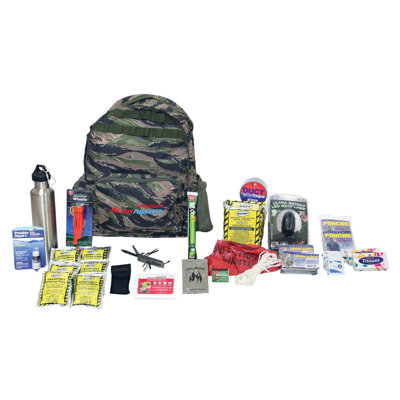 Food bar and water pouches//Light sticks//5 In 1 survival whistle//First aid kit 33 piece//Poncho//Survival blanket//Pocket tissues//LED crank headlamp//Duct tape//Pocket knife multi function//Bio hazard bags//Pre moistened towelettes//Carabineer clip/...
Buy Now
$173.99
Related Products
The Deluxe 72 Hour Emergency Survival Kit includes: Adult Size Backpack (Nylon) Light Stick, 12 Hour (Green) Plastic whistle with Lanyard 33 Piece First Aid Kit Duct Tape, 50 yards 14 in 1 pocket tool 3-way Can Opener, 1 pair Radio, Flashlight, Siren C Size batteries x2 2x Solar Blanket 2× 2400 Calorie Food Ration (5 year shelf life) Water Pouch x 20 (5 year shelf life) 2x Emergency Poncho 2x N95 Respirator mask Bio Hazard Bag x2 Work Gloves, Leather Palm Waterproof Matches, box of 50 Slow Burning Emergency Candles 2 Gallon Water Bag
View Item
The first 72 hour period after an emergency is the most critical. The Emergency Deluxe 2-Person Outdoor Survival Kit, by Ready America, will properly prepare you for this time frame. The main components that the kit contains are food, water and a blan...
View Item