Emergency 2 Person Outdoor Survival Kit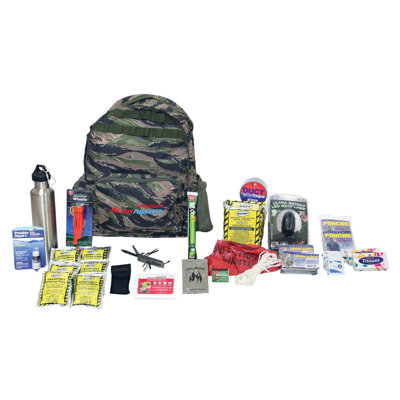 Food bar and water pouches//Light sticks//5 In 1 survival whistle//First aid kit 33 piece//Poncho//Survival blanket//Pocket tissues//LED crank headlamp//Duct tape//Pocket knife multi function//Bio hazard bags//Pre moistened towelettes//Carabineer clip/...
Buy Now
$154.99
Related Products
TITAN Survival and TITAN Paracord products are trusted by Military Forces and Outdoor Enthusiasts around the world. We're proud to be an American Veteran-Owned business, and all authentic TITAN products have a LIFETIME GUARANTEE. Our focus on Superior Quality means Superior Performance that you can count on when it matters.Our 5-Pack of olive-drab emergency thermal blankets, designed to be used as an emergency survival shelter. Perfect for hiking, camping, boating, hunting, and surviving in the cold outdoors. Excellent as liner of sleeping bag. The perfect preparedness item for your Emergency Kits, Go-Bags, and Bug-Out Bags. - Each emergency survival blanket is individually packed in its own zip-lock bag, with 5 individual units per larger zip-lock package. - Each advanced aluminized Mylar blanket is conductive, measures 52" x 82", is 12u thick, weighs 1.75 oz., is waterproof, and tear resistant. - Military green (OD) on one side is designed to blend into foliage, while the shiny silver side is perfect for reflecting heat back towards the user. - When wrapped properly, designed to reflect up to 90% of body heat back towards the user.TRY TITAN TODAY! Remember...If you're unhappy with our products in any way, we'll completely refund your purchase. No questions asked.
View Item
Even if you haven't witnessed a disaster firsthand, you've seen the devastation they cause and you know that you can never be too prepared. If you are out on the water; preparation is even more important. Safe drinking water is probably the most important thing to have in reserve when disaster strikes. 125 ml sachets of Datrex purified water are easy to dispense and loss is minimalized due to the durable packaging. USCG, Canadian Coast Guard, EC and NZ approval, with a five year shelf life. Contains (64)- 125 ml sachets.
View Item