Thermo Tread GT Desk Treadmill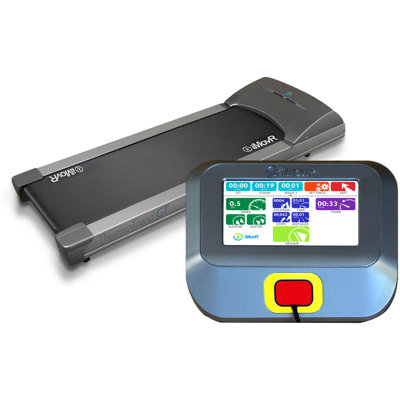 Clearly the best treadmill desk, also helps improve all around office fitness! The Thermo Tread GT is the first treadmill desk base designed from the ground up to live quietly in a tough office walking environment, not noisily in a gym. From upgraded ...
Buy Now
$2,099.99
Related Products
Displays graphical representation of your heart rate as a percentage of your maximum heart rate. Guides the user through the programming process and displays workout data. Metric and standard units. Displays heart rate through the stainless steel sensors on each side of the treadmill. 0.25 mile track displayed around the dot matrix window. Flashing dot will indicate progress with a lap counter in the centre of the track. Designated speed and incline windows. Users with a comfortable and quiet workout while reducing impact up to 40 per cent. 1 in. reversible and double sided Phenolic Deck is wax lubricated thus eliminating stress on the motor. Strong frame capable of handling users of all levels, large and small. Each frame has an epoxy powder coat paint applied to it's all steel welded construction. Heaviest and most powerful motor of its class. 3hp continuous duty motor has a large diameter with all steel zinc coated balanced flywheels for a vibration-free running surface. 3 in. rollers possess a sealed bearing design and copper ground wires to reduce static. Durable multiply belt carefully chosen to provide comfort and substantially reduce impact energy from each foot strike. Made in Taiwan. Console: 20 in. W x 15 in. H. Overall: 84 in. L x 35 in. W x 60 in. H. Warranty .
View Item
Made in the USA//Material 100% Cotton //Product Care Machine wash and dried//Product Type Dishcloth//Design Patterned//Colour Natural Black//Material Cotton//Outdoor Use//Country of Manufacture United States Commercial ONLY Certifications//Low Lead Com...
View Item