Hansgrohe Raindance Select E 120 2.0 GPM Hand Shower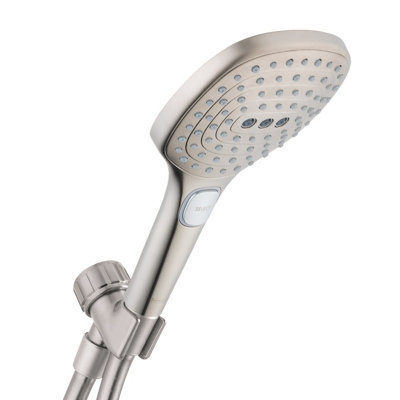 Raindance collection//Raindance Select 120 air green 3 jet handshower with rain air, rain and whirl spray modes//Shower arm mount//Select button for comfortable alternation of spray modes//Includes Techniflex hose//Flow 2.0 GPM 20% Water savings//Finis...
Buy Now
$182.00
Related Products
SH1011 Finish: Chrome, LED Color: Yellow Features: Product Type: -Shower head. Shower Head Type: -Fixed shower head. Style: -Modern. Material: -Plastic. Number of Items Included: -2. Pieces Included: -Rubber seal ring and O-ring. Flow Rate: -2.5 Gallons Per Minute. Body Jets: -Yes. Commercial Use: -Yes. -Fixed LED illuminated shower head. -Removable transparent cover for easy cleaning. -Swivel connector to adjust the direction of the water jet. -No battery or cable required. -100% water driven. -Water consumption 2.5 Gallon/Min at 80psi. Spray Pattern: -Jet. Installation Type: -Wall mounted. Number of Body Jets: -1. Dimensions: Shower Head: -Yes. Overall Product Weight: -0.44 lbs. Shower Head Height - Top to Bottom: -5.31". Shower Head Width - Side to Side: -3.15".
View Item
CP390iNC 7" WAAS GPS CHART PLOTTER WITH INTERNAL ANTENNA Features: 7" Hi Res 800x480 sunlight viewable display Internal 50 channel WAAS GPS receiver and antenna Connection for the optional external 50 Channel WAAS GPS Smart antenna C-MAP NT+ and C-MAP MAX compatible Fish Finder and AIS capable Displays DSC Distress and Position report calls received from a DSC VHF radio Customizable data windows 1 NTSC or PAL Video input with Picture In Picture display Able to show Distress and Position report calls received from a DSC VHF radio GPS Status, Chart, Navigation, Highway, Celestial, Tides, Chart/Fish, Radar and AIS pages 3000 Marks / 50 Routes 20 Tracks with 10000 available track points Dual chart window with independent zoom levels Satellite images on base map Font size selection on chart page Navigation and Route line thickness Navigate to an Olympic route Find Key, allows quick access to Port information, tide stations, wrecks, Point Of Interest and coordinates (with optional C-Map MAX) Automatic switching of Daylight savings time Route checking Supplied with a swivel mounting bracket and flush mounting hardware Dedicated MARK, ROUTE and INFO keys Overall dimension: 5.7"W x 9.9"W x 1.5"D Flush mount cut out: 4.3"W x 8.9"W 4 NMEA inputs / 5 outputs 3 Year Waterproof Warranty Internal / External 50 Channel WAAS GPS The internal 50-channel WAAS receiver is the heart of the CP390iNC. WAAS delivers pinpoint repeatable accuracy to within 3 meters of a vessel's actual position without the additional expense of a Differential receiver. The WAAS system currently covers the United States, Canada, Mexico and parts of northern South America. Additionally, the CP390iNC is EGNOS and MSAS ready which will extend superior receiver performance to the United Kingdom and European Continent. For flush mount installs, the CP390iNC is capable of connection the optional WAAS GPS antenna (Q7000619A) supplied with 30 feet of routing cable. 3-Year Waterproof Warranty If the CP390iNC fails for any reason (including water damage) during normal use for the first 3 years of ownership, STANDARD HORIZON will repair or replace it free, without hassles or charges. If it fails for anytime thereafter in normal use, for as long as the original purchaser owns the radio, STANDARD Horizon's Lifetime Flat Rate and Customer Loyalty Service Programs will cover it. Direct Sunlight viewable color display Nothing beats the detail and impact of a color display. Featuring cutting edge transflective screen technology, the result is a display that delivers un-compromised bright, vivid color chart detail in the toughest of applications--direct sunlight. The CP390iNC 7" 800x480 wide-screen display, truly allows you not to worry where the sun is shining! Video Input The single video input allows connection to a NTSC or PAL color video camera or any off the shelf DVD which is viewed on the CP390iNC wide-screen display. The CP390iNC can show the image on the whole display or on a small Picture in Picture display or be shown at user selectable intervals to monitor your bilge during a cruise. AIS display capable The CP390iNC is capable of displaying AIS targets from AIS receivers (Standard Horizon Matrix AIS+) or AIS transponders on the Chart page. The AIS targets are colored to inform you of the type of AIS ship you are looking at. In addition, Closest Point of Approach or Time to Closest Point of Approach alarms can be set to alert you of approaching Class A and B ships. Dual Chart Windows The CP390iNC display can be set to show two chart windows with independent zoom levels. Compass Heading indication around ship icon To see the approximate bearing of ships, buoys, obstructions or quickly see a bearing to a point you want to navigate to, the CP390iNC display can be setup to show a compass around the ships position on the Chart page. Dedicated Navigation Keys Using a GPS Chart Plotter has never been so easy! The CP390iNC has dedicated MARK and ROUTE keys that allows the creation of a single waypoint or creation of a route right on the Chart Page. Want to navigate to one of the marks or to a Route, the GOTO key allows you to do so directly on the chart or via the popup menu when the key is pressed. Guardian Alarm The CP390iNC has a unique alarm which monitors possible obstructions in front of your vessel to alert you while navigating. This alarm allows you to set the depth of water and the distance to obstructions infront of your boat. Swivel Mounting Bracket The CP390iNC comes with a swivel mount bracket allowing it to be rotated left or right for optimal viewing. VHF Digital Selective Calling and Position Polling STANDARD HORIZON pioneered this function, leading the industry with innovative features and function. The CP390iNC GPS Chart Plotter has the capability to be connected to a compatible DSC VHF Fixed mounted radio. This is done by simply connecting 3 wires between the CP390i and the VHF. Connecting the products together allow you to securely and totally privately poll and display another vessels position on the display of the CP390i. To take this one step further, the CP390iNC has a DSC Call directory that logs the position of the polled vessels and also the position of a vessel that has transmitted a DSC Distress call. FF525 optional black box fish finder capable The optional FF525 Fish Finder option brings high-end fish finding capability to Standard Horizon's CP390iNC WAAS GPS Chart plotters making them the ideal choice for casual or professional anglers alike. The optional FF525 Dual Frequency (50 and 200kHz) Black Box Fish Finder's advanced filtering eliminates unwanted noise and sharpens return echos for enhanced separation and detection. Transducer ID? allows the FF525 to query the transducer (sold separately) to determine its performance characteristics. Power output, frequency, beam pattern and other unique transducer characteristics are sent to the fish finder. This data allows the fish finder to fine tune itself to match the transducer which optimizes overall system performance. No matter what the conditions, you will be able to fine tune your fishing rather than the fish finder. Note: Transducer ID? is a registered trademark of AIRMAR Technology Corporation, Milford. Amps - Draw = NONE , Basemap = Yes , Card Format = C-Card , Cartography - Preloaded = No , Cartography Brand = C-Map , Cartography Type = NONE , Internal/External Antenna = Internal , Resolution (VxH) = 800 x 480 , Screen Size = 7" , Screen Type = Color , Touchscreen = No , Voltage - Input Range (Volts) = NONE , Waterproof Rating = Waterproof , Waypoints/Routes = 3000/50 , Weather Capable = NONE
View Item