Kohler Bancroft 2.0 GPM Single Function Shower Head with Katalyst Air-Induction Spray and Katalyst Air Induction Spray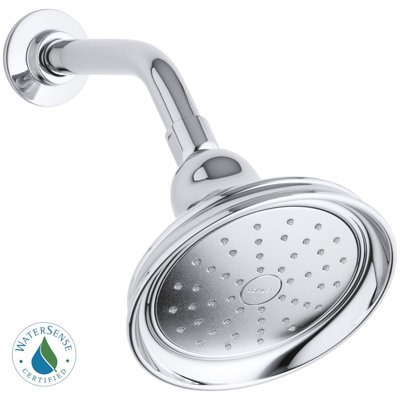 Conservation doesn't have to mean sacrifice. The Bancroft traditionally-styled 2.0 gpm showerhead utilizes Katalyst air induction technology to deliver an invigorating spray experience while saving up to 20% water consumption. The Kohler® Bancroft sho...
Buy Now
$53.96
Related Products
Spray Clean fixed spray shower head, self cleaning and maintenance-free. Pass hand across thermo-plastic rubber jets to clean shower head as needed. Durable and resilient white plastic body means no corrosion. The water-saving spray operates at 1.75 gpm, has a great performance & feels like a higher flow shower. Energy efficient. Save money and conserve water. ----------------------Non-removable Neoperl pressure compensating flow controller produces steady low flow rate no matter what the water pressure. Great for hard water areas. Easy installation shower head , no tools required. Manufactured to high standards and highest energy savings. Chrome plated brass nut couplings and screen washers for serious flow control. Teflon tape included for shower head installation.
View Item
The Magellan eXplorist 310 GPS receiver comes packed with tons of helpful features and is ready to use right out of the box. The eXplorist 310 is pre-loaded with the World Edition map, which includes a complete road network in the United States, Canada, Western Europe, and Australia and major roads throughout the rest of the world. This unique preloaded map also includes water features, urban and rural land use, and city centers. Regional versions of Magellan?s Summit Series topographic maps are available for download to expand mapping coverage and level of detail. A vibrant, transflective color screen allows for the best readability in direct sunlight. To zero in on the exact location of a geocache, favorite fishing spot, or the next summit, the SiRFstarIII GPS chipset provides accuracy of 10-15 feet (3-5 meters). To keep your outdoor adventure going all day long, the device is powered by two AA batteries for 18 hours of constant usage. The eXplorist 310 is rugged, waterproof, and submersible (IPX-7). All of this is packed into a small and attractive handheld form factor that can be hung around your neck with the optional Magellan lanyard or attached to your pack with the built-in carabineer hook. The eXplorist 310 provides unmatched assistance with navigation, such as the combination of the world?s two most useful navigational tools - a compass and a map! Overlay a series of different transparent compass styles on top of a pre-loaded worldwide map that show roads, water features, parks, and city centers. Access the dashboard screen that shows a mini-compass for quick reference and customizable navigation data fields, such as latitude, longitude, heading, bearing, distance to end, trip odometer, and many more. Go back to the map screen and view your active track, which is a series of digital breadcrumbs to record all yours movements. Mark your starting point (car, trailhead, parking lot...) with a waypoint and easily navigate back to that location at the end of the day. The eXplorist 310 supports paperless geocaching, which allows you to download more than 20 unique characteristics of each cache, including name, location, description, hider, size, difficulty, terrain, hint, spoilers, attributes, and last 20 user logs among a number of other details. Reference your track summary to keep track of your distance travelled, elevation gained or lost, complete travel time, moving time and stopped time, and average time to find. Easily reset your track summary statistics to track the details of your next geocaching adventure. No matter where you enjoy the outdoors, the eXplorist 310 GPS receiver will provide precise GPS signals thanks to the Satellite Based Augmentation Systems (SBAS) of WAAS, EGNOS, and MSAS; display coordinates in a myriad of different global systems, including UTM and WGS84; and accurately guide you to and from your next adventure, where ever in the world that may be! Features Easy to Navigate Menus and Rich Graphics A simple main menu, intuitive contextual menus, and vibrant graphics make this device easy to use Brilliant, sunlight readable color screen A vibrant 2.2" color transflective screen provides the best readability in direct sunlight Rugged and waterproof to IPX-7 standards Focus on the adventure not protecting the device High-sensitivity SiRFstarIII GPS with 3-5 meter accuracy 3-5 meter GPS accuracy provides a superior navigation experience Pre-loaded World Edition Map Referencing a complete road network in North America and Western Europe and major roads throughout the rest of the populated world to help in orientation. See parks, rivers, lakes, major city points, and other types of land use areas. 18 Hours of battery life using 2 AA batteries Go strong for an entire day (or more). No stopping to replace the batteries. Suspend Mode The goal is to conserve battery life by putting the device into an advanced power saving mode. Suspend mode will turn off everything expect for GPS tracking. Wake up the device with a single click. Paperless Geocaching Download and view more than 20 unique characteristics of each cache and view, search, filter on the device. Details include name, location, description, hider, size, difficulty, terrain, hint, spoilers, and last 20 user logs among a number of other details. 500 megabytes of user memory available Loads of space to store additional maps, geocaches, waypoints, and tracks. Record Tracks and See "Breadcrumbs" on the Map Screen Keep a log of all the steps you took throughout the day. Reference your track to find your way back or to keep a digital journal of all your outdoor adventures Track Summary Start your journey with one-click and keep tabs on useful statistics such as distance travelled, average speed, elevation gain and descent, and average time to find NMEA Message Output (USB Only) For hardcore outdoor GPS enthusiasts who want to connect their device to laptop running VantagePoint software and see your position on computer screen. Multiple Coordinates and Map Datums Navigate around the world and do it accurately. See your geographic location in UTM coordinates or reference the OS Grid for use in Great Britain Battery Type = Alkaline , Built-In Memory = 500MB , Card Format = NONE , Cartography - Preloaded = Yes , Cartography Brand = NONE , Memory Type = Internal , Screen Size = 2.2 , Screen Type = Color , Waterproof Rating = Submersible , Waypoints/Routes = 500-1000/25-50
View Item