Josephine Watering Can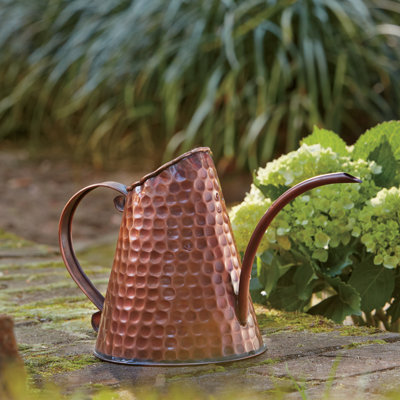 Material Copper//Wipe with a clean cloth//Imported//Primary Material Details Copper//Primary Material Metal//Handles Included//Product Care Wipe with a clean cloth//Country of Manufacture ...
Buy Now
$32.74
Related Products
Let your little one help you in your garden with our Watering Can. These colorful 5.5 inch tall metal watering cans are sized just right for kids. Comes in assorted colors: red, green and blue.
View Item
Haws watering cans have been a fixture in English gardens since 1886, the year that Londoner John Haws patented his unique design for a "watering pot" with perfect balance. This is a well-designed, lightweight plastic watering can made with 2 handles for balance and effortless watering. The tall neck prevents water from spilling out when it is tipped forward. This is a general purpose can that comes with a removable plastic-backed oval brass rose and a right-angle downspout attachment for the more precise watering of pots or planters. The rose can be pointed upwards for a gentle spray and pointed downwards for a heavier spray. Handy parking points store the rose or downspout when not in use. This can is Haws' number one best seller. Over the last 125 years the Haws name has become known as the makers of the finest watering cans used throughout the world. Gardeners know that a Haws watering can is the best whether it's made in metal or plastic. 1.6-gallon (6-liter) capacity, green. Made in England.
View Item