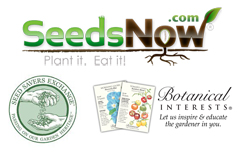 The important part of growing fresh vegetables is the choosing of best company that sells organic seeds. The best company is that offers organic and non-gmo seeds at reasonable rate. SeedsNow.com is a small family owned business that provides 100% non-gmo, non-hybrid and open-pollinated seeds. They even provide seed kits that can save your lots of time. Botanical Interests is also perfect company to buy organic seeds that offers comprehensive details on the seed packets. The details will about germination type, plant growth and sunlight requirement. Seed Savers Exchange is also regarded highly as an ideal seed company to go for. You can purchase seeds from any of these three companies and grow organic vegetables to secure your family's health.
http://www.urbanorganicgardener.com/2012/02/3-sources-to-buy-your-vegetable-seeds/
It is up to you to live an organic and eco-friendly life.
Check out the Living Organic Online Store to get started today!
Comments